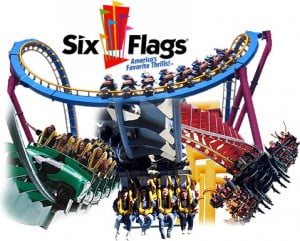 Six Flags Magic Mountain is the world's largest amusement park in the world. The company maintains 18 properties throughout North America. Six Flags has a water park, roller coasters, concerts, parties, and many more. In 2009, Six Flags properties hosted 23.9 million guests.
The company was founded in Texas and took its name from its first property. The company maintains a corporate office in Midtown Manhattan, New York City, and its headquarters are in Grand Prairie, Texas.
How LAA Transportation works:
Pick up and drop off service:
The most affordable and convenient of the two options is. Your driver will take you to your location and return to pick you up at an arranged pick-up time. We know sometimes events run longer than anticipated, and we make sure that you have driver contact information to adjust pick-up times. This can also be done through the main dispatch number at 800-990-0444. Please note that hourly wait time fees may apply.
Hourly Service:
For those that want to have the convenience of having the driver wait on location, we also offer hourly wait time service. This way the driver will wait on location for the duration of the event, and the client can be as early or as late as they wish. No need to notify the driver or dispatch about an event running late.